Making the Switch to SNG
It started last month when I got a free 50 dollars on Sunpoker and didn't really know what to do with it. Since I'm leaving for Vietnam, I didn't really want to cash out and have the check sent to my address while I am gone, yet it was too little to play at my regular cash games.
I joined a 10 dollar HU sng (back in January I played a ton of turbo ones). I decided even though the regular ones take longer, it takes more skill than turbos so I decided with my limited bankroll that I'd play in the more skillful non turbo HU sng.
I won that one. I continued to play and I won almost every single one. I nearly tripled my original 50 dollars into 150 with an ROI (return on investment) of 23. A good turbo ROI = 5 percent for HU sngs (professionals would aim for this number. For non turbo games I am not sure what the target ROI is, but I'd assume its 10 percent, so my ROI was killing it.
I began to wonder if it was because the players on Sunpoker were absolutely horrid (super passive fish) and if I could achieve similar success on FTP (with rakeback) playing higher.
Long story short, FTP had better players, but game selection was much better. I played 20 dollar non turbo games and was crushing them. I think I've played about 200 games in about 10 days on ftp now and have a really good ROI. I've recently thrown in some 30 dollar games and 50.
I truly feel that HU SNG is where my true natural talent lies. I have always made money in every poker derivative (limit, MTT, 9 player SNG, 6 max NL, HU turbo) but with HU sng I get this natural -- I get it -- lightbulb in my games and I just know what to do. Whereas in the other areas I've always had to study and work really hard on my game (perhaps it's b/c I have all the fundamentals down already).
Below is my ROI graph. As you can see I was negative in 11 dollar turbos (my 5 dollar turbos made up for that and made me a marginal winning turbo player).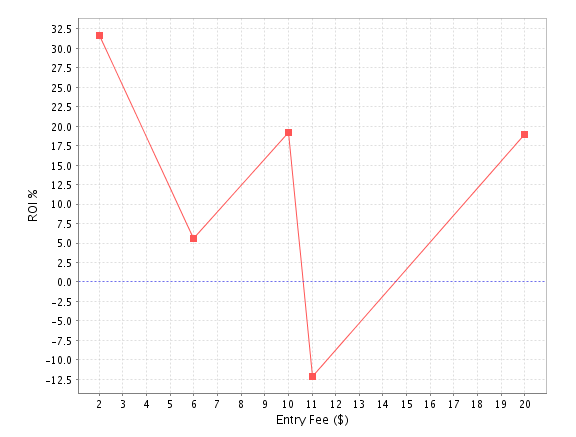 Below is my other graph. At a little after 800 games was when I started non-turbo games (the beginning of this month after trying out sunpoker).
You should also take note how I crush the 2 dollar SNGs b/c thats what my poker friend Kevin and I play when we're bored, want a challenge and don't want to pay extra rake. I crush you Kevin. Let's call it revenge for the 5 cent 10 cent money you took from me.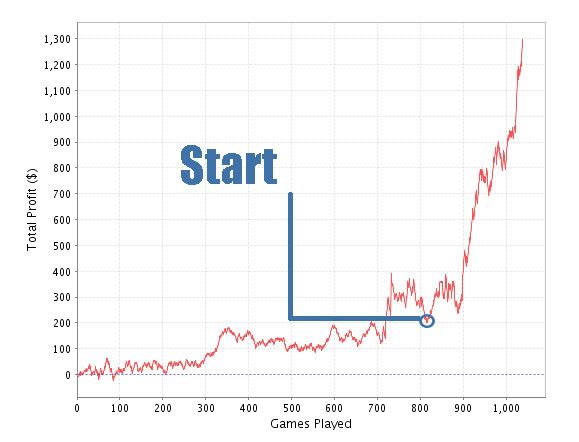 PS thanks azncutie, I signed up for sharkscope and it has helped me tremendously. It predicts which players I should not be using fancy play syndrome on.
Also, taking the small shot at 200NL last post really made me hate poker and how small the edge really was and how boring it was to play. HU is very creative and mano-o-mano and so dynamic that you can't robotically follow some strategy, so much less stress than playing 6 tables. concentrate on one and play it well. No HUD, just personal observations.
posted by joe | permalink | 1 comments